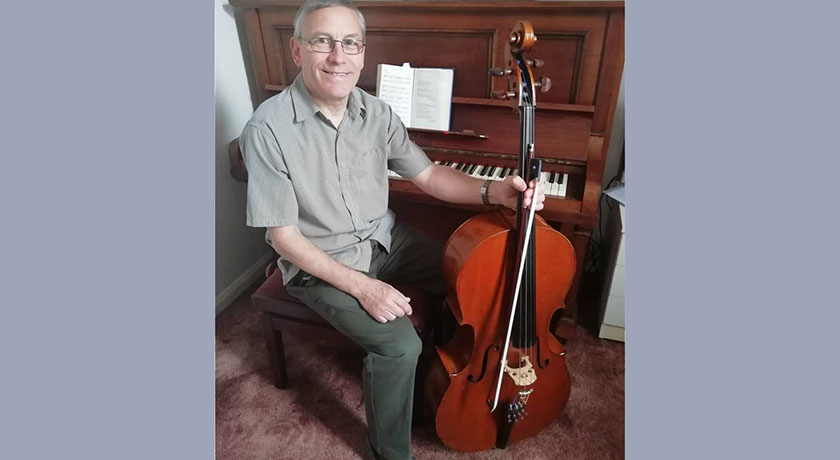 For the start of this year's Christian Aid Week, Roy Haworth, Musical Director at Shrewsbury United Reformed Church got a virtual choir together to record a song for a digital Christian Aid Sunday service to mark the start of this year's Christian Aid Week.
Twenty-nine people either played or sang along to the hymn God of Freedom, God of Justice on May 10. Individual recordings were then submitted to Roy who then put the pieces together to form one track using Audacity.
The youngest musician was just 13 years-old and the oldest singer was 90!
"They all wanted to do it because they wanted to contribute to the worship of the church," said Roy. "Some were quite shy and others went for it. I'm absolutely amazed by the four-part singing that they've achieved."
Roy, who provided the parts for the sopranos, altos, tenors and basses, continued: "Some people had never recorded themselves singing before and they also had to learn the technological aspect of submitting the recording to me. But they managed quite well and had fun."
The song starts with a cornet, played by the Revd Carole Marsden, Minister of Shrewsbury URC, which then builds up to include the choir. Singers sing unaccompanied in the first verse and the final part of the song includes the full orchestra.
Roy takes an inclusive approach to the choir: "Prior to the coronavirus lockdown, the church had a choir of around 40 people.
"We don't hold auditions. We always take the attitude: 'If you want to sing in our church choir, you can'."
Roy, who previously created a recording for Shrewsbury URC's Easter service, has found each time one is made more people want to join.
"It's great," added Roy. "One lady asked straight away when we would be making our next track."
Listen to the recording here.
The URC has produced an information guide on how to record and put out a podcast which mentions Audacity. That guide can be found here. The full range of URC information guides to help people navigate platforms to record acts of worship can be found here.
Image: Roy Haworth
Published: 11 May 2020