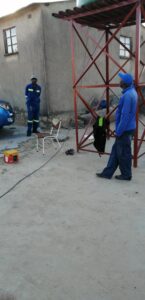 Thank you for Digging Deeper Appeal!
Please accept my modest word of gratitude and thankfulness for the overwhelming response to the "Water Appeal project" that we published in the "Reform" magazine of March 2021.
I would like to express my heartfelt thanks to the Reform magazine readership, who have generously dug deep and supported this cause beyond words. As I once said, in my local pastorate newsletter, thanking the membership for the initiative. Their support to provide clean water to strangers who are ten thousand miles away is beyond words. This project is a result of my visit to Zimbabwe in May/June 2021 that followed up now to supervise work and I am glad the trip was a success.
This is what we mission beyond borders and living the true Gospel Christ. So far two boreholes have been installed, one is manual and the other is solar powered. The solar system has a 5000 cubic litres volume tank connected to it. The solar system water well pumps and fill the tank in 1hour 30minutes and people come in the morning to draw water thereafter. All this was made possible because of people's kindness and generous giving.
While I was still in Zimbabwe this time I encountered, yet another heart rendering episode when a school head from a nearby primary school, 10 kilometres away from the installed boreholes came to me, pleading and wishing the second borehole would have been installed at the school where there is equally dire need for water. This school is called Mbirashava Primary school 10 kilometres from Murambi village. This is the school where I did my primary education and has a student population of 300 pupils plus 10 teaching staff. "The provision of clean water for this school will be a dream come true for these children," said Mr Fredrick Dube. Mr Dube the school head could not hide his emotions as he was expressing this appeal to me. One minute I experienced the challenges of servanthood and sometimes God gives us eyes to see the needy when we personally do not have the ability or the means to do anything. Just like Ezekiel who was sent to the people of Israel with the word of God but with no means or ability to control or determine their responses. For all I am doing here is to tell you what I have seen and heard and I pray that God will speak to his people just as he has spoken before.
Once again, I thank you kindness, generosity and support. Water is life!
May God bless you.
Naison M. Hove