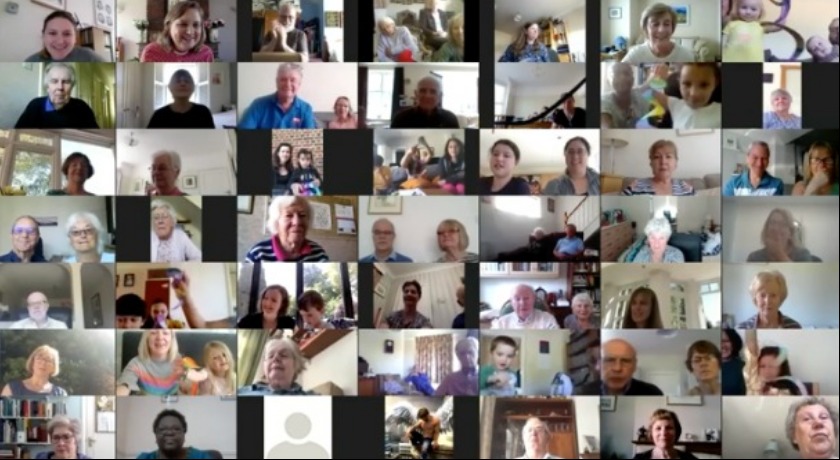 At first, the news that churches would need to cancel services due to Covid-19 was met with dismay.
In March, the government had written to vulnerable people, including people aged over 70, pregnant women, and those with specific underlying health conditions advising that they should self-isolate for 12 weeks to protect themselves from the coronavirus pandemic.
At a time when people would most want to seek comfort from their church, friends and loved ones, they were being forced to isolate themselves from those support networks, albeit for their own good.
But United Reformed Churches (URC), like Christ Church in Petts Wood, in the URC's Southern Synod, rose to the challenge to keep people connected.
The Revd Nadene Snyman, Minister of Christ Church, explained her churches activities: "We have a good old-fashioned telephone tree to stay in touch with every member. This has been invaluable during this time and it is the main way we have been alerted to pastoral care concerns. We check on each member every week."
The church also has a WhatsApp prayer group, a weekly 10.30am pre-recorded Sunday worship service on YouTube and via a conference call facility, a weekly 50-minute guided mediation created by member Chris Fosten, coffee mornings, a monthly book club, elders' meetings, and the Brownies' meeting are all held on Zoom, a new weekly newsletter is being produced, and a small army of volunteers help older members of the congregation with shopping and picking up pharmacy prescriptions.
Speaking of the importance of these activities, Nadene continued: "For a good number of our elderly members, Christ Church is the centre of their community. The continuation of church online and activities has lent some sense of routine and consistency in what has been a fearful time.
"The congregation has been uplifted by seeing one another, singing hymns, joining in with prayers and listening to the scriptures and a sermon. We have had many members feed back to us that the services are the highlight of their week and they look forward to 'being together' on a Sunday morning. The coffee mornings and book clubs have also been real points of connection and fellowship.
"We have felt this time has brought us closer together and so many positive outcomes have come about as a result. We have been church outside the building in new and exciting ways, people are finding their faith sustained and nurtured."
With 35 people in the WhatsApp prayer group, it has been the simple things in life that people have expressed gratitude for.
"Our members have been giving thanks for gardens, walks and being able to wave at one another through windows," Nadene continued. "We have had a lot of prayer requests for those isolated, those who are homeless, those with no gardens, for sick family and friends, and prayers have also been said for the increase in domestic violence, countries without the resources to cope with the lockdown, for the keyworkers and families juggling with work and home life. People have been brought together on the group."
Next on the church's list of things to do is a letter exchange programme between the older and young members of its congregation. It also plans to run its activities for as long as needed.
More details on Christ Church, Petts Wood, can be found here.