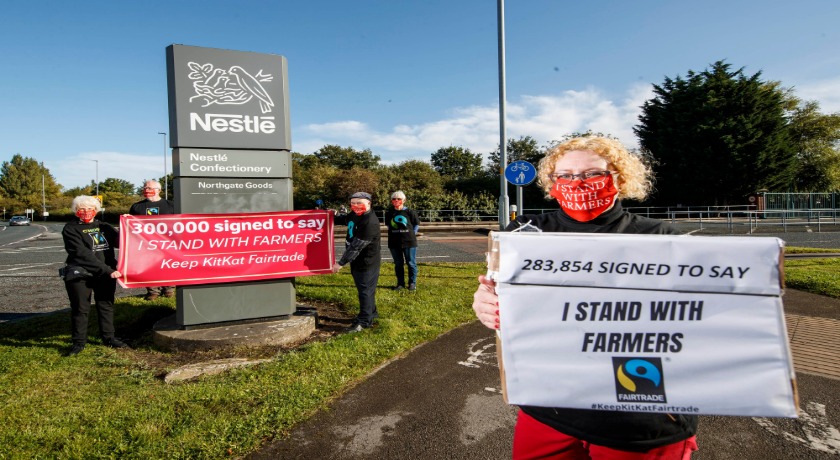 A petition signed by 300,000 people was delivered to Nestle's UK KitKat factory in York on 1 October.
The event was in protest at Nestle's move to stop using Fairtrade cocoa and sugar in KitKats.
The delivery, organised by Joanna Pollard of Fairtrade Yorkshire, coincided with the start of the annual cocoa harvest in the Ivory Coast and was applauded by the Revd Dr Kevin Snyman, Coordinator for Commitment for Life, the United Reformed Church's (URC) global justice programme.
Dr Snyman said: "The URC remains unwavering in its support of Fairtrade. The Church is adamant that keyworkers all around the world, like the farmers who put food on our tables, are both heard and fairly paid for their work."
Nestle announced that it planned to stop using Fairtrade coco and sugar in its KitKats and instead switch to the Rainforest Alliance (RA) certification in June.
The decision was met with widespread criticism as vulnerable cocoa farmers are expected to lose out on around £1.37m annually in premium payments. This will also mean them having less control over how they're money is spent, and sugar farmers will lose more than £500,000 a year in premium payments.
According to Fairtrade Wales, Fairtrade and the Rainforest Alliance have "separate objectives and separate approaches to these objectives".
"Fairtrade labelling standards are designed to tackle poverty and empower small-hold producers, addressing the injustices of conventional trade which discriminates against the very poorest," it says on its website.
"Rainforest Alliance Certification focuses on how farms and plantations in developing countries are managed, looking at the economic, social, and environmental aspects of sustainability. At least 30% of products with the Rainforest Alliance mark are Rainforest Alliance Certified. For example, a pack of 80 softpack Tetley teabags has a minimum of 50% RA certified tea. This means that the other 50% is not certified and does not support farms and plantations."
In regard to Fairtrade, all products with its mark are 100% certified. This means that every ingredient must meet Fairtrade's minimum social, economic and environmental requirements, plus progress requirements that encourage the improvement of farmers' organisations and the situation of estate workers.
The Commitment for Life Programme and URC members have given strong support to the work and advocacy of the Fairtrade Foundation over the years and many supported the #KeepKitKatFairtrade petition.
Dr Snyman continued: "Thank you to everyone in the URC who supported the petition and who faithfully purchase fairly traded products every week."
Image: Danny Lawson/PA
Published 6 October 2020