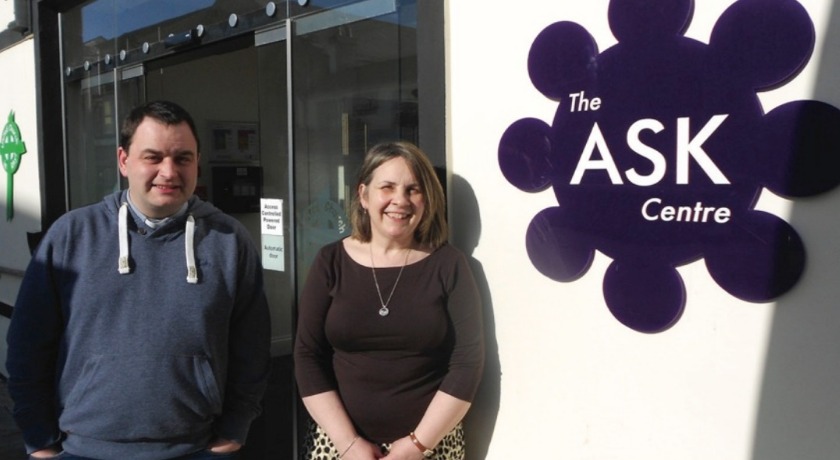 The deadline to enter the United Reformed Church (URC's) 2021 Community Project Awards is fast approaching.
Run by the URC in collaboration with Congregational, one of the UK's leading church insurance providers, the awards recognise innovative community projects that have a positive effect on local communities.
To be eligible, the project must be run in the UK by a URC congregation or by a local ecumenical project involving the URC. The winning project could receive up to £2,000. Applications must be submitted by 26 February. Find more information and download an entry form here.
Here we revisit the award-winning The ASK Centre, link to the United Church in Rhyl as reported in the June 2020 issue of Reform magazine:
Two weeks before the UK lockdown, a Welsh town centre faced a different kind of confinement. A gunman was on the loose in Rhyl, Denbighshire. Police cordoned off the central area to investigate. At the same time, a group met at the United Church in Rhyl's chapel. In the midst of danger, they sang 'In Christ alone, my hope is found'.
This is a church that is used to finding hope in difficult circumstances. Adjoining its worship space is the ASK Centre, whose name alludes to Jesus' appeal for Christians to ask, seek and knock. There, volunteers provide muchneeded community services, including a Citizens Advice service, an emergency foodbank and the Living Hope Coffee Shop, which offers hot drinks and meals on a 'pay what you can' basis. Most services provided by the ASK Centre are delivered by volunteers, around 15 of them from the church. It jointly won the URC's Community Project Award, and £2,000, in 2018.
While the Revd Paul Robinson (pictured above, left), Minister of the United Church in Rhyl, gives me the tour, I get a sense of why the Centre's services are so desperately needed, despite the idyllic seaside setting. Last November, a Welsh government index named two areas of Rhyl as the country's most deprived. The town tackles county lines drug gang activity, along with homelessness and poverty. 'A few weeks ago, I took the funeral for one of the homeless guys who used to come here,' Paul says. 'This is the community we live in. It's a beautiful place. It's where the church needs to be.'
Later, a recently released prisoner explains how much he missed the coffee shop's homemade lemon cake in prison. Another person has visited the ASK Centre regularly for three years. 'When we first knew him, he was an alcoholic on the street, who slept in a skip,' said Paul. 'He's now in his own flat, and he's not been in prison for about 18 months.'
In the coffee shop's serving area, a group of people with learning difficulties eat lunch with their support worker. A Sikh wheelchair user drinks coffee, waiting for an appointment. People are being helped by Denbighshire County Council's Homelessness Prevention Team. Instrumental worship music can be heard beneath the talk, occasional laughter and kitchen sounds.
'It all began with a hole in the roof,' explains Anthea, the church secretary. Five years ago, the church began deliberating whether to incur substantial costs just to fix the roof, or to redevelop the site entirely. The local Citizens Advice service, which had rented space from the church for over 40 years, needed more room. And the church desperately wanted to serve its community even more. In 2017, they decided to go for it.
Sue Parry, who manages the Rhyl office of Citizens Advice Denbighshire, based at the ASK Centre, shared how this risk paid off. 'If we have a client in, on any day, and they're desperate need, we can directly solution that client much more effectively now than we could before,' she says. 'Some clients present in really quite dire circumstances. We send them into the coffee shop. They don't necessarily have to have money; there's no stigma; they can just walk in and get a coffee, or lunch. We encourage that. The service is well rooted within the community now. It's a go-to place.'
'Forms can be filled in a more informal manner here,' explains Eunice (also pictured), the ASK Centre's Manager. A probation officer, for example, takes client meetings at the centre, preferring it to the police station. 'We're called to be the hands and feet of Jesus,' continues Eunice: 'This is where we can put that into practice.'
Joan helps at the coffee shop, and to run the church's 'Friends together' community activities, including 'doggie bingo' and strawberry cream teas. 'You come here and you leave on a high,' she says. 'Everybody cares for everybody else. It's pastoral care,' she says.
Amid the lockdown, that care continues. The advice team runs a telephone service. The church-based foodbank has become ever more essential. Volunteers continue providing food parcels, assisted by emergency funding and increased donations. Hope continues to be served, in God's name, thanks to the United Church in Rhyl's ASK Centre. Even in the midst of danger and difficulty, that's something worth singing about.
The ASK Centre was recognised in the 2018 United Reformed Church Community Project Awards, sponsored by Congregational. This article was first published in the June 2020 edition of REform magazine.
Updated: 24 February 2021