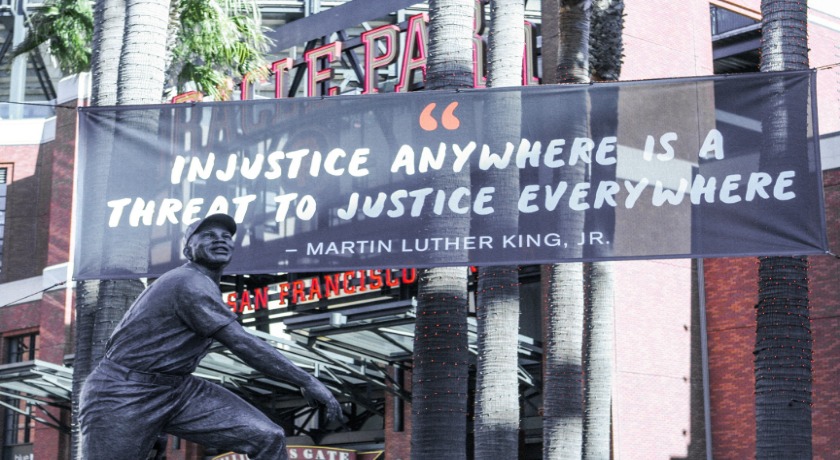 Against the backdrop of public tragedies and outrage, Simeon Mitchell, United Reformed Church Secretary for Church and Society, explores the pursuit of justice and the redemptive power of love:
Jesus is dead. Who is to blame?
It is often maddeningly difficult to get to the bottom of evil acts and gross injustices. Who can be held responsible for this unwarranted suffering, this unnecessary death?
Twenty years ago, the Macpherson report on the police investigation into the murder of black teenager Stephen Lawrence famously adopted the term "institutional racism" to describe the collective failures that denied Stephen and his family justice for so long. It was not only about the actions of individuals, but the whole culture and system that were flawed.
It is a story we have heard time and time again from public inquiries and independent investigations into the causes of recent injustices, from the Windrush scandal to the Grenfell Tower disaster: the system failed. And when the reports are written on why there were so many preventable deaths from Covid, or climate disaster was not fully averted, surely they will reach similar conclusions.
As we reflect on the events of Good Friday, we might imagine the testimonies offered to the public inquiry into whose fault it was that Jesus died. Everyone will have their convenient excuses to hand.
The chief priests and the elders? They were simply trying to prevent a dangerous uprising. Judas? But he changed his mind and returned his bribe. Pilate? He just let local legal proceedings run their course. Pilate's wife? She tried her best, but what could a mere woman do? The baying crowd? They were led astray by fake news. The soldiers? Just following orders.
No, blame for Jesus' death cannot be put at the door of any one individual or group – though many played their parts. But still, a man died – so what went wrong? It was a failure of the system. Some might name it as Empire, while others might say it was nothing less than all of us.
The good news is that this moment of absolute loss, of apparent total darkness, is where true system change begins. For it tells another story, a subversive story of love: the only power that can undermine and then remake the system – and each of us.
In a couple of days' it will be the anniversary of the assassination of the great civil rights leader and preacher, Martin Luther King Jr. In his non-violent activism for justice, Dr King drew inspiration from Jesus' act of submission on the cross, observing: "He did not seek to overcome evil with evil. He overcame evil with good. Although crucified by hate, he responded with a radical love."
It is this redemptive love that is the gamechanger. Seeking blame is asking the wrong question. As Dr King went on: "We must discover the power of love, the redemptive power of love. And when we discover that, we will be able to make of this old world a new world. Love is the only way. Jesus discovered that."
For Dr King, love, as expressed on the cross, offers the path to real system change and genuine justice, for "justice is really love in calculation. Justice is love correcting that which revolts against love".
It is just and loving action that will bring about the wholesale transformation in the lives of individuals and institutions, cultures and systems. So by treating all people with dignity, by welcoming refugees, by meeting hatred with forgiveness, by being anti-racist, by feeding the hungry and asking why people are hungry in the first place, by reducing our carbon emissions, by peacefully resisting oppression, we are exercising the redemptive and transforming power of love.
This Good Friday, we thank God for the loving act of Jesus, that great moment of putting right, which enabled the transforming power of love to change us, and every relationship and situation. And we are invited to join in with that love in action which is justice.
Image: Luke Zhang/Unsplash
Published: 31 March 2021