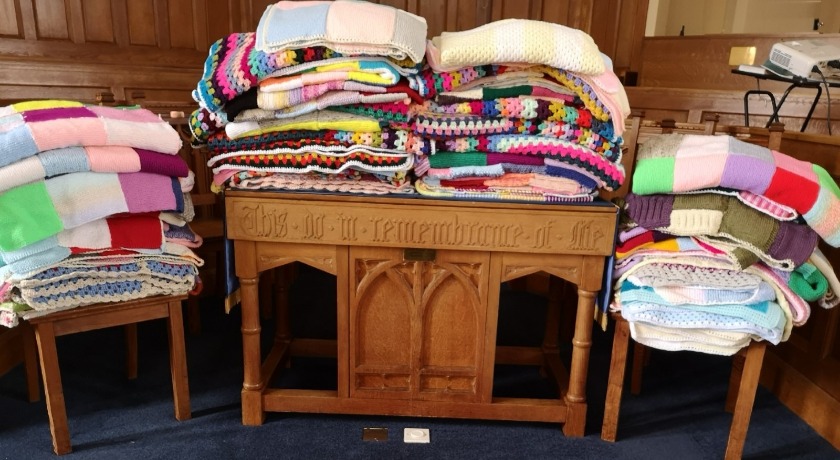 Kind-hearted members of Gillingham United Reformed Church (URC), in the Southern Synod, have knitted and crocheted 120 blankets for friends in Malawi.
The church has been supporting Starfish Malawi – a Christian organisation whose mission is to reduce extreme poverty and build the Kingdom of God in lives of children, through collaborative work within communities, schools and churches in the UK and Malawi.
The charity fills a container with anything that is considered to be of value in Malawi, such as educational materials, sewing machines, bicycles, blankets, shoes, clothes, and much more.
Blankets knitted by the church members will help keep people warm at night during the country's cooler season from mid-May to mid-August.
Pam Tolhurst, a Local Church Leader at Gillingham URC, said: "We usually send 25-30 blankets each year. This year the growth in our supportive knitters and crocheters, beyond the fellowship of Gillingham and friends in Medway, has reaped an increased harvest of blankets.
"We thank Girlguiding Sussex East County Associates and Girlguiding Sussex East Trefoil Guilds for their significant contribution. We also know that friends at Dartford URC have made their own contribution independent of our 120 blankets. The gift of a blanket might seem a small thing to us but to those from villages in Malawi and patients at the health care clinic run by Starfish Malawi it is an enormous blessing.
"I believe that knitters and crocheters would agree with me that they too have been blessed through the opportunity to make a difference especially at a time when life here has raised many challenges."
For more information about the work of Starfish Malawi visit the charity's website.
Published: 1 June 2021