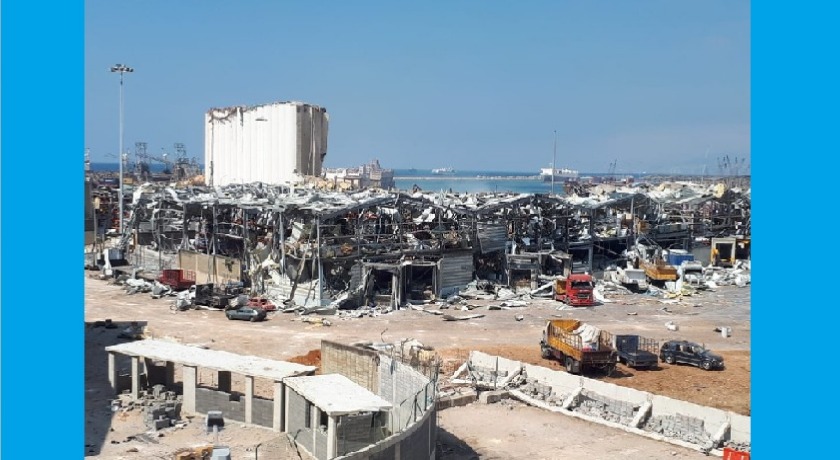 Generous members of the United Reformed Church (URC) have helped to raise £15,000 to help those affected by the massive explosion in the port of Beirut.
The Beirut Hope Appeal was launched following an explosion of 2,750 tonnes of ammonium nitrate at the port of Beirut on August 4 which made 300,000 people homeless, , killed more than 200 people, wounded 6,000, and left an undefined number of people reported as missing.
The £7,500 raised by URC members, staff and friends was then match funded by the URC's World Church and Mission Fund bringing the total to £15,000.
Expressing her gratitude, Karen Campbell, URC Secretary for Global and Intercultural Ministries, says: "1 John 3:18 says 'Let us not love with words and speech, but with action and in truth.'
"These are the words used by our local partners to launch the Beirut Hope Appeal. I am delighted that URC members and friends have responded with such huge generosity in supporting the essential rebuilding programme, enabling us to send a wonderful and much-needed donation. I add my heartfelt thanks to those of our partners in Lebanon."
The blast was caused after 2,750 tonnes of ammonium nitrate that had been stored for years in a port warehouse despite repeated warnings ignited.
Although reconstruction has begun in the city, the eastern suburbs are still badly scarred.
The appeal was organised by the Compassion Protestant Society (CPS) – the diaconal arm of the URC's local partner, the National Evangelical Synod of Syria and Lebanon (NESSL).
The CPS aimed to support 1,000 Lebanese families by fixing their homes and making them habitable, through a $1,000 USD grant provided to each family. These families will be chosen based on an assessment and registration process handled by a professional team recruited by CPS.
Image: Freimut Bahlo/Wikimedia Commons
Published: 9 December 2020