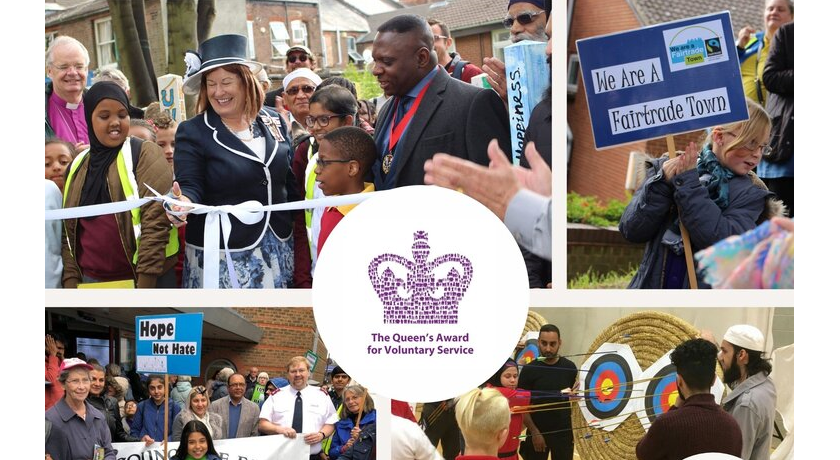 A community organisation supported by the United Reformed Church has won the Queen's Award for Voluntary Service (QAVS).
Now in its 20th year, Luton Council of Faiths, will receive the award and certificate from the Queen's representative, Helen Nellis, the Lord-Lieutenant of Bedfordshire, later this summer.
David Jonathan (known as Johny), a member of Bury Park URC in Thames North Synod, who serves as Director for both Luton Council of Faiths and Grassroots, a Christian ecumenical organisation working in Luton since 1991, expressed his gratitude.
"Luton Council of Faiths originated as a project within the Grassroots programme, which actively continues to contribute to its ongoing work," Johny said. "I would like to thank all those who have been actively supporting our work and believing in our vision that peace (and peaceful co-existence) is possible, provided we do not just believe in peace, not just pray for peace but actively work for it.
"Some critics say such efforts are as fragile as a candle flame, but our response has always been that it is better to keep lighting a candle than to curse the darkness."
The QAVS recipients are announced each year on 2 June, the anniversary of the Queen's Coronation. While nationally Luton Council of Faiths is one of 241 charities to receive the prestigious award this year, in the Bedfordshire County it is the only organisation.
As Church Related Community Worker, Karen Campbell worked for a project hosted by Bury Park Beech Hill Council of Churches in partnership with Grassroots and contributed to Luton Council of Faiths initiatives for more than 10 years. Karen left the project in February 2020 to take up the role as URC Secretary for Global and Intercultural Ministries.
Of the award, Karen said: "For any work visible on the surface, there is a whole lot more that has gone on behind the scenes – time and effort spent developing friendships, partnerships and collaborative working; fostering mutual respect, ensuring that diverse voices are sought and heard.
"LCoF (as it is fondly known) is a true model of community development and inter faith working. It was a joy to be part of the team with Johny and the extensive list of volunteers from all faiths and none, brought together by a shared commitment to justice and peace, both locally and globally. Well done, Luton Council of Faiths!"
Zafar Khan, Chair of Luton Council of Faiths, says: "We are extremely delighted to receive this award [which recognises] the hard work of our volunteers, young and old from different faiths and cultures."
More information about the award can be found here.
Published: 28 June 2021