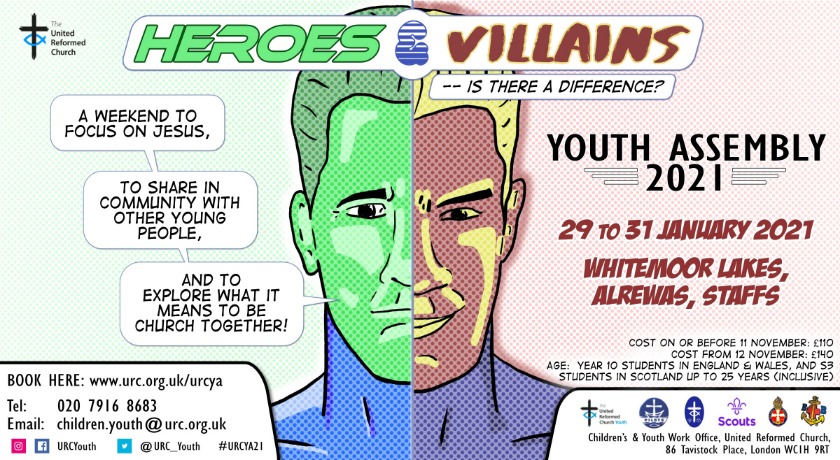 The United Reformed Church (URC) Youth has announced the cancellation of its 2021 Youth Assembly due to the ongoing Covid-19 pandemic.
Speaking on behalf of URC Youth Executive, Reuben Watt, URC Youth Assembly Moderator, said it was a "difficult decision to make": "It certainly wasn't taken lightly. Youth Assembly means just as much to us as the Youth Executive as it does to the URC's young members.
"This situation is fast-moving and changeable, and to continue to plan for a large in-person event where many of our valued friends and colleagues would be unable to attend due to health concerns, possible local lockdowns, and other circumstances, is not in the inclusive spirit of URC Youth. The atmosphere of Youth Assembly is so unique that we felt we were unable to do it justice with an online replacement.
"Of course, we haven't forgotten those who will be particularly disappointed by this announcement due to Youth Assembly 2021 being their final assembly. We are doing all we can to work out how to include you in the future."
New plans are being made for the weekend that Youth Assembly would have taken place, 29-31 January 2021.
"We couldn't let our weekend in January pass without doing something together, so we're working on a small way to connect," continued Reuben.
"More news will follow about this and other plans across the year. Remember to reach out to your URC Youth friends, Children's and Youth Development Officers (CYDO+) team and Youth Executive for support and news about what's happening locally."
Published: 8 September 2020