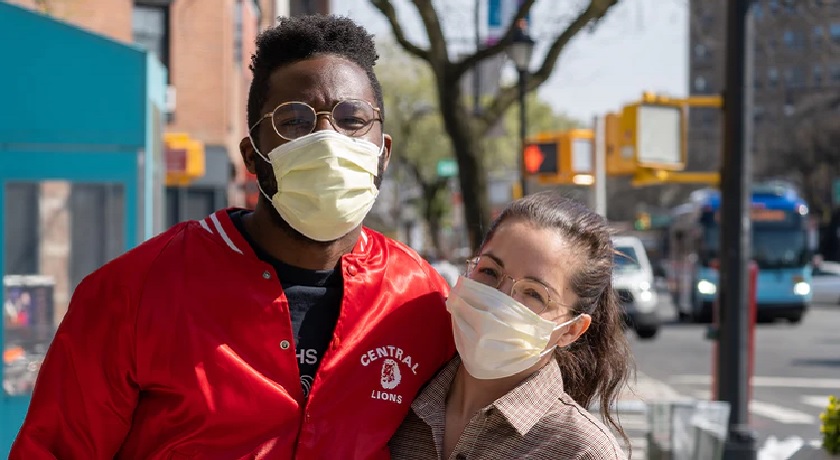 The UK Government has updated its guidance on Places of Worship for England: https://bit.ly/3BdYQrz
The Revd Steve Faber, Moderator of the United Reformed Church's West Midlands Synod, who has been leading on the church's advice during the pandemic, says there are no surprises, and offers the edited highlights:
No social distancing required
No legal limits on attendance
Face coverings not required in law but they "expect and recommend" us to still wear them in crowded areas
No table service requirements (for after-service coffee, etc.)
No restriction on singing
"You may still choose to limit the close contact you have with people you don't live with," and "consider getting a free test before being in close contact with others" (many pharmacies will give you a free packets of Lateral Flow tests on request). Around 1 in 3 people with Covid don't show symptoms.
Please continue to let fresh air into your church and ventilate as much as possible to reduce risks from aerosolised virus particles
The Clinically Extremely Vulnerable no longer need to shield, but remember that they are still extremely vulnerable – whatever choices we make personally we need to consider those at greater risk.
The use of shared communal objects (hymn books, communion vessels, etc.) "is now a personal choice" but we are still "advised to follow the advice on personal hygiene" – hand washing/sanitising, good cleaning regimes, minimising/avoiding multiple handling, etc., should continue. Remember your personal choices have an impact on others. (Do unto others as you would have done unto you…)
There is still a greater risk of spreading the virus through singing, especially in crowded indoor spaces. "In situations where there is a higher risk of catching or passing on Covid-19, you should be particularly careful to follow the guidance on keeping yourself and others safe".
"Venue managers" (the Elders' Meeting) still have a legal duty to manage risks to employees, volunteers and visitors. Keep your risk assessment updated and operating.
We are still encouraged to use QR code posters for check-in via smartphone app to help NHS Test and Trace. We are no longer required by law to collect contact details. "If you display an NHS QR code, you should also have a system to collect (and securely store) names an contact details for those who ask to check-in but do not have access to a smartphone or prefer not to use the app."
There is nothing specifically about Communion or Baptism, but with very high and growing infection rates (between +4 and +7% per day increase in confirmed rates) please continue to act cautiously and always in line with your risk assessment.
For food service (which will include the elements in Holy Communion as well as after-church coffee) we should "follow the advice for restaurants, pubs and takeaways", which does include reducing the number of surfaces people touch and wiping non-disposable condiment containers (sugar bowls) between uses. No shared teaspoons. No plates of biscuits out on tables!
Response to those tired of wearing masks
In a response to a worshipper who contacted Church House, the Revd Faber wrote:
Thank you for contacting the URC via the website regarding the latest advice on wearing face coverings in church.
I would like to say from the outset that you are not alone, by any means, in having greatly missed congregational singing – I stand squarely with you on that.
You are, of course, right that the legislation on wearing face masks in public buildings, which include our churches, comes to an end on Monday (19 July) and that the Synod Moderators' advice is that the decision properly rests with the Elders' Meeting in each local church.
However, we ask everyone to consider their continued use. We do not believe that any local church should decline entry for those who won't wear face masks. They may, however, out of care for others who are at church, ask you to sit in a particular part of the church, so that those who are more anxious can sit in a socially distanced space and continue to wear their masks.
We must remember that many people are still at significant risk from Covid-19. In the church where I am a member there is someone who has no immune system because of a medical condition and thus cannot be vaccinated.
The Elders therefore have to make some choices about how to make the building as safe as possible so that this member can attend when they feel that infection rates are low enough so that they wouldn't be running a massive risk.
Perhaps there are people similarly vulnerable in your congregation, or their family members might be so that they need to exercise increased caution in order to be more certain that they won't take a potentially fatal disease home, or you might have visitors one Sunday in a similar position. We don't know the full story of everyone around us.
The other key thing to remember is the even double vaccination does not give 100% protection from infection, and that we can pass on the disease even if we don't have symptoms ourselves.
There are many known cases where doubly-jabbed people have been infected – the BBC's Andrew Marr is one high profile example and you can read the story of how ill he felt although fortunately he did not need to be hospitalised.
Wearing masks is not primarily to stop us from getting infected (although it does have some benefit there). The main point of a mask is to protect other people from being infected by us, given that we may well not know that we are carrying – and passing on – the virus. Can you guarantee that each Sunday you will be Covid-free?
We also agree, from what you have said, the Coronavirus is here to stay. However, the infection rates are still increasing with the Delta variant. Inevitably this third wave will die down although we don't yet know how high it will grow before that happens. We can fully expect further waves of infection in the coming months, especially if people relax their vigilance too soon.
Locally to me, the Director of Public Health has just reported that the case rate in our borough is the highest it has ever been. In light of that, I hope and expect that on this point you are wrong: it will get better than this. It will get to a point where it is safer than it is now, and we can then make safer choices to remove our face coverings.
Based on all the scientific data I am reading, and the fact that in every NHS setting face masks will still be compulsory beyond July 19th, I am fully convinced that now is not the time to lose our masks, but I wonder if anyone's decision to stop wearing a masks is a properly informed one.
As for me, I shall continue wearing mine, and I shall sing praises to God whilst wearing it. Yes, they are a nuisance at times, especially if, like me, you wear glasses.
But my conviction is that it is better for me to be a little inconvenienced than for me to greatly inconvenience others should I happen to be responsible for infecting others – and indeed, risking their lives.
I would simply ask you to think again, and at least consider trying out what it feels like to sing with your mask on for a little longer.
Image: Julian Wan, Unsplash
Published: July 17, 2021