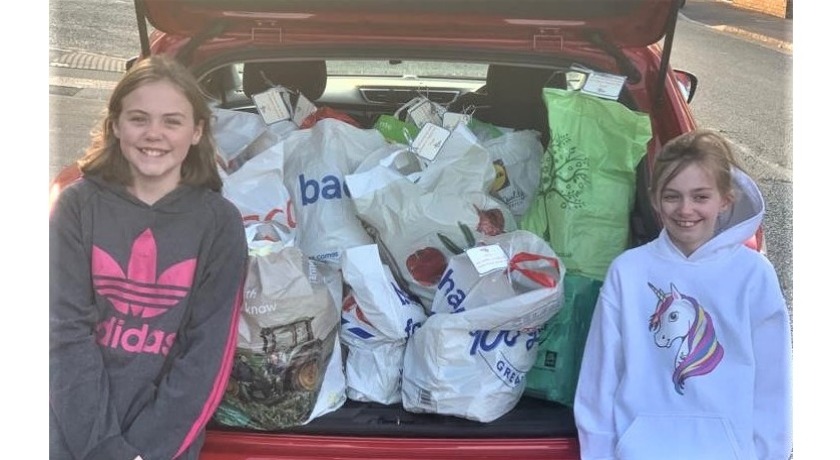 Children in St Helen's, in the United Reformed Church's (URC) Mersey Synod, have been delivering care parcels to the vulnerable in their community.
Becky Taylor, a Christ Church Haydock URC Girl's Brigade leader, explained that although the children weren't meeting due to social distancing rules, they wanted to do something to help.
The leaders are distributing the packages – safely – and four children of the leaders are helping.
Sisters Mia, 11, and Amelia Davig, eight, and Bella Hattersley, 11, are helping to distribute, and Emma Dolan, 11, is making the cards to go in the packages.
Mia explained: "It made me sad after watching the news and seeing all the old people who don't have any family or friends to help. I asked my mum if we could try and help people local to us. We got extra things with our shopping and gave some things to our elderly neighbours. My mum, who is a girl's brigade leader, asked others and put a message out on our Facebook group. We got lots of food and money donated to us, so we split it into parcels and took them to vulnerable."
So far 41 packs containing tins of fruit and vegetables, part-baked bread rolls, tea bags, biscuits and chocolates, toilet rolls and a card have been distributed.
Becky added: "There are a lot of vulnerable people in St Helen's, they may not be desperate for food but they are lonely or have things going on. One man we help has learning disabilities. He is in his 50s and has never lived away from his mum. Now she is in hospital, and we believe these care parcels are giving people hope in an uncertain time. We're letting them know we're here for them."
Published: 27 April 2020