United Reformed Church (URC) members in Chester are preparing freshly cooked meals for those who are vulnerable during the coronavirus crisis.
The Revd Ruth Wilson, Minister of both Upton and Vicars Cross URCs, explained: "We wanted to help during this time, so contacted our local councillors to see how we could support others."
Church members then began cooking healthy main course meals for vulnerable people in Upton, Hoole and Newton which are distributed each Friday by volunteers working from the Kingsway Community Hub.
Ruth added: "In addition, we're also cooking 52 hot main meals every Tuesday, to be collected by Soul Kitchen, Chester, to deliver directly to homeless individuals currently in hotels during the pandemic. This is one way that the church can live the gospel during the lockdown, by feeding the hungry and protecting the vulnerable.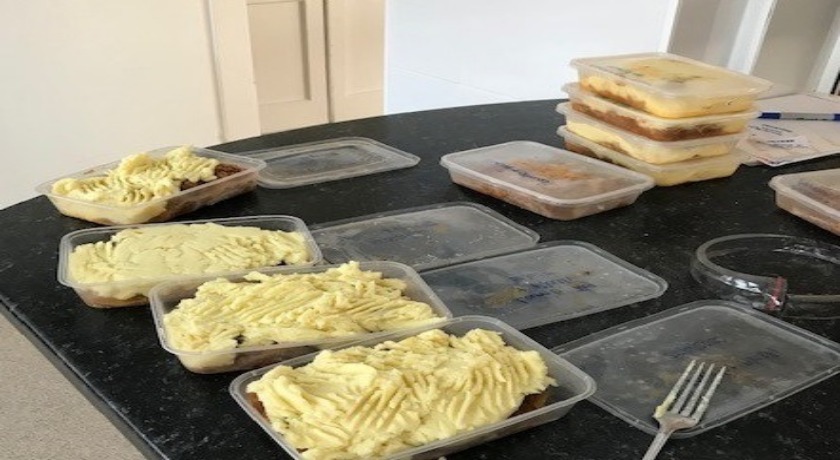 "Since being inducted as Minister to Upton and Vicars Cross URCs, I have been working with the churches to reach out to the wider community to demonstrate that church is not the building, but the people and not only on a Sunday morning.
"I hope and pray that the connections we make will demonstrate that the church really is open and welcoming to all as we share the love of God with our neighbours."
Thanks are given to local councillors and charitable organisations and networks who have helped source 75kg of potatoes, 50 fresh eggs and a variety of other food items to keep costs to a minimum and prevent food waste.
Ruth concluded: "The church buildings may be closed but the churches are open and showing, living and being Christ's presence in the world."
Image: A volunteer preparing food.
Published: 27 April 2020