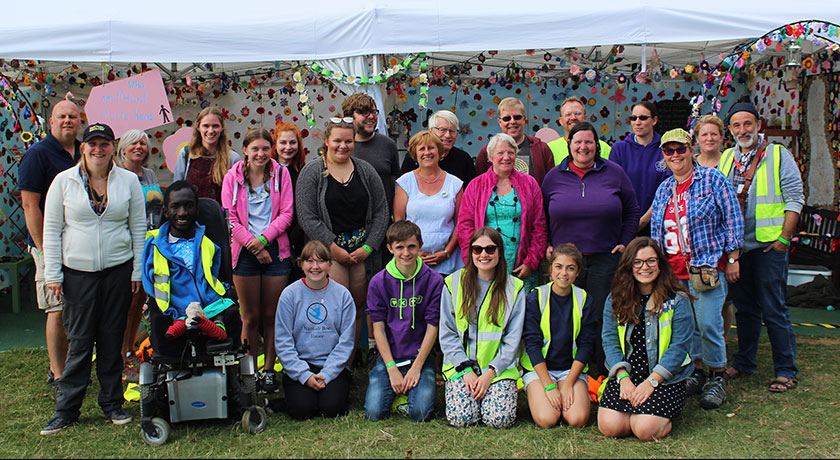 With a programme packed full of fun events for people young and old, and of all faiths and none to enjoy, the United Reformed Church (URC) at Greenbelt is now entering its fifth successful year.
Each year, thousands of people attend the festival held at Boughton House, Kettering, which has been running since 1974, and the URC's presence is enjoyed by many.
This year, the URC aims to provide a bigger and better experience for its visitors and will, for the first time, be running a café.
The Revd Philip Brooks, URC Secretary for Ecumenical and Interfaith Relations, who is Chair of the URC Greenbelt Steering Group, says: "This year the URC will have a much bigger presence at Greenbelt. In addition, to our art and crafts activities, our marquee will have a family friendly café. The URC Children and Youth team will also be there in force. It's an exciting year for us, particularly as we missed the festival so much last year."
Volunteers are needed to help run a variety of URC activities in the URC café to make refreshments and to work with the crafts team.
There will be plenty of free time to enjoy the myriad of activities offered by Greenbelt which features 24 stages, galleries, installations and outdoor performances.
"There's no need to worry if you have never been before because you'll be part of a supportive group of people," continued Philip. "The URC volunteers pitch their tents together and there is no shortage of knowledgeable guidance on tap."
To apply, you will need to have a link to a local URC church or ecumenical partnership (LEPs) and be willing to cover at least one session per day in the URC tent (each session is usually around two hours).
The closing date for applications is 14 April 2021.
If you are interested in volunteering, free of food allergies and medically and physically fit, able to stand for several hours in a food safe environment, and willing to wear a face mask at all times when working in the café, please email Samara Andrews, Administrator (Church Related Community Work and Special Category Ministry), for an application form and further information.
Published: 26 January 2021