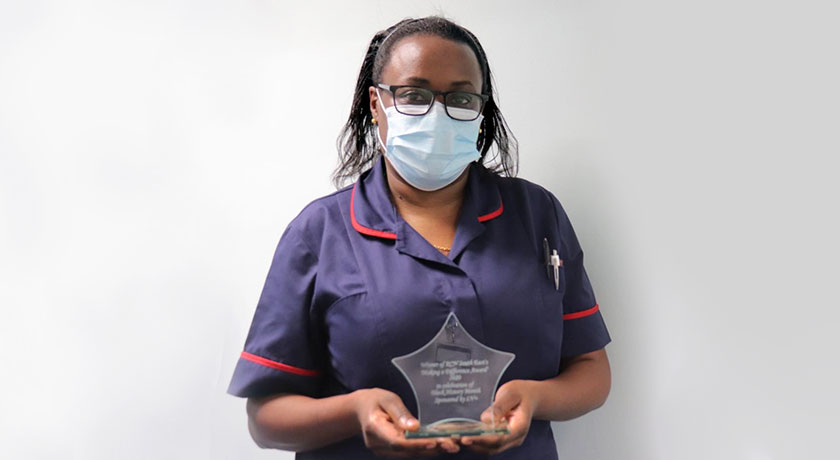 Bernice Boore, a member of St Andrew's United Reformed Church (URC) in Reading, has won the Royal College of Nursing (RCN) 2020 South East Black History Month 'Making a Difference' Award.
As part of the RCN South East region's Black History Month celebrations, around 60,000 members were asked to nominate individuals who had made a real difference in the delivery of healthcare.
Bernice, Lead Renal Nurse for the Royal Berkshire NHS Foundation Trust, emerged a winner.
"This came as a big surprise," Bernice said. "There are a lot of brilliant nurses out there that do a lot more than I do. It is really humbling that people can think about you so positively when you think you haven't put anything towards winning it.
"I just do my job and think of ways to be of help. I am so grateful to the Royal Berkshire NHS Foundation Trust for giving me the opportunity to work for them. I have grown in my career and as a person. I count myself lucky to be a member of a very enthusiastic family, working together for the best outcomes for our patients and families. I'm also thankful for my family and especially my late dad who really encouraged me in my career."
Those nominated had to be from the black, Asian or minority ethnic (BAME) nursing community, or have made a real difference on behalf of the BAME nursing community. Bernice met both targets.
Jessica Higson, Director of Nursing, said: "Bernice was recognised for her excellent leadership and the depth of compassion she demonstrated to colleagues and families who were bereaved. We were incredibly grateful for the inspirational leadership Bernice has shown over the last few months particularly during the height of the pandemic but also her commitment to work, and how she sensitively supported her peers and a bereaved family of a colleague who sadly passed away."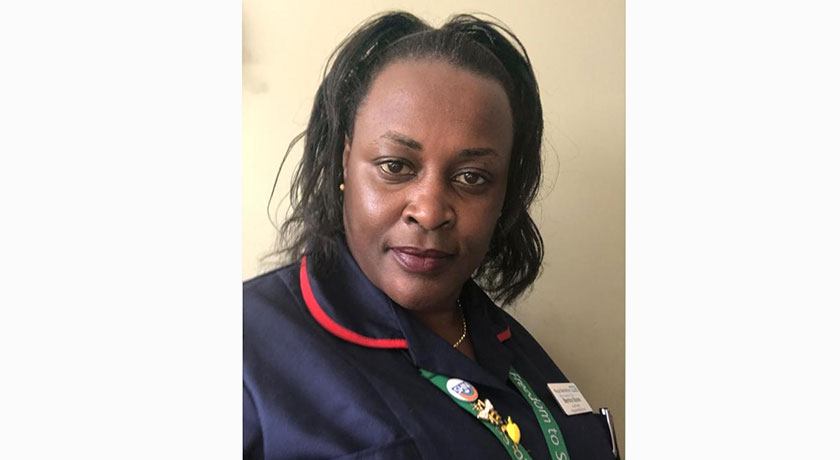 Bernice worked for the Trust's renal department from 2008-2016 when she left to start Battle Day Unit, part of the Trust. The nurse returned to support the renal department when the pandemic struck, juggling her day unit responsibilities at the same time.
"The renal population was quite badly hit by Covid," continued Bernice. "Because of dialysis, patients need treatment three times a week. They cannot survive without it and must come to the hospital to receive it, pandemic or not. I moved back to support the team."
This move led Bernice to establish, along with the team from the intensive care unit, bedside haemodialysis – a way of replacing kidney functions – in the renal unit as well as on a day ward which helped manage the additional inpatients. Bernice's establishment of bedside haemodialysis also allowed the renal team to create separate outpatient pathways for Covid positive and negative patients, to ensure patient safety was maintained.
The award recognises Bernice actions in this area. She found that coming from a BAME background herself provided an advantage in being able to meet minority-specific challenges.
"People from BAME backgrounds were hit hard during the pandemic," added Bernice. "It was particularly distressing because media reports were saying BAME people were being worst affected and that there were more BAME people on the frontline being sent to more high-risk areas. That made people scared.
"When people were losing their loved ones, they couldn't see their relatives. Then you had BAME migrants whose relatives waved them off at the airport in their home countries with a 'See you later' but now couldn't bury their relatives as we couldn't repatriate bodies. People were not being allowed to travel to see their loved ones. Some nurses I know lost their parents and were not able to see them. Those BAME migrants had to be buried here. Their loved ones will never be able to see where their relatives are buried. My own mother became ill, not with Covid, but I was not able to go and see her. I could identify and relate to those in the same position and show them that I was still smiling and still going. I kept trying to find positives."
Bernice is working with hospital directors to help encourage and promote more BAME hospital staff into managerial roles, so that there can be an equal base of BAME people in frontline and in senior roles.
The St Andrew's URC member fell in love with nursing as a young girl growing up in Kenya, for what she calls the "wrong reasons".
"These old nurses used to wear a cape and hat, and there were these two sisters who I used to watch come home early in the morning wearing the cape. I always wanted to wear it.
"By the time I became a nurse, the capes were no longer being used. I always wanted to help people though. I went to a mission school, then a Catholic school which ran a dispensary for people who were really poorly. I used to help people in the community and in the dispensary, I learnt how to take temperatures and pulse rates. So, by the time I actually came to do nursing I had a good understanding."
Bernice started her training in Kenya at the Clive Irvine College of Nursing's Presbyterian Church of East Africa Chogoria Hospital. She then moved to the Kenyatta National Hospital in Nairobi, before moving to Scotland in 2004 where she begun work at the Lothian University Hospital in Edinburgh. After that, she moved to Reading in 2008, where she begun working for the Trust, and became a member of St Andrew's URC.
She follows in the footsteps of the Nigerian-born Kofoworola Abeni Pratt who in 1950 became the first black nurse in the NHS, and went onto become a pioneer of nursing in post-independence Nigeria.
Bernice says: "Things are changing from when I first started as a nurse, but there's still work to do. Around 40% of nurses are now from BAME population. Pratt paved the way. But many nurses, particularly those from Spain and Italy, have gone back home because of Brexit. So, I think they'll be another push for nurses from abroad."
Bernice refers to herself as a strong believer.
"I pray every day," she says. "It can be difficult, because not all the people you come across at work are believers, and it can go horribly wrong when speaking of faith there, as you're dealing with people from all walks of life and from different faiths. But deep inside, I know it is God who gives us the knowledge and skill to make diagnoses and decide on treatment. Also, when God makes a decision, you cannot overrule it. I believe in medicine, but I believe that God has the final say. I am not going to work to preach to people, but, in what I am doing, I believe that I am proclaiming the healing ministry of Jesus' work."
Outside of her job, Bernice has a passion for helping others. She helps empower women through the Kenyans in Reading organisation, which helps people deal with personal problems and immigration issues, and she also helps out in her church and community, whenever hospital shifts allow.
"I always say: 'If you want to go first, go alone. If you want to go far, go together.'"
With community firmly in mind, Bernice hopes to start up a charity when she ends her nursing career.
"I want to do more," she adds. "I need to help for kindness, for ministry."
Images: Bernice Boore
Published: 27 October 2020