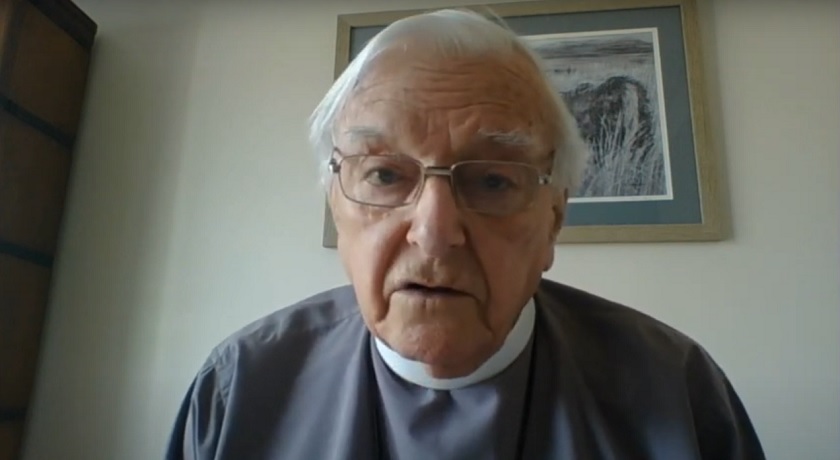 The Revd Michael J Davies, FCIS, who served the Presbyterian Church of England at Rustington and Wallasey, the United Reformed Church (URC) as its first Youth Secretary and Moderator of Thames North Province (now known as a Synod), and the World Council of Churches as Assistant General Secretary and as its representative to Britain and Ireland for 20 years, has died aged 87.
After training at Westminster College Cambridge, Michael was called to St Andrew's, Rustington, on the Sussex coast, in 1959.
Four years later, having helped to grow the congregation at St Andrew's, Michael served on the Littlehampton and Bognor Area Youth Committee of West Sussex County Council and saw an opportunity for a new church in the Pagham area, 14 miles away.
In 1966, St Ninian's Presbyterian Church hall opened thanks to his church planting efforts. When Michael was called to the Presbyterian Church at Egremont, Wallasey, in 1965, the congregation, wishing to show an expression of thanks for his work, presented Michael and his wife with a wall mirror and a set of saucepans. The church opened in 1971.
Michael spent two years working for Help the Aged before becoming the URC's first ever Youth Secretary in 1972. Michael's daughter, Heather, served as Chair of FURY (the Fellowship of United Reformed Youth), in the mid-1980s.
The Revd Michael Hopkins, Clerk of the URC General Assembly, said: "I first encountered Michael in the late 1990s, when he was again covering the role of National Youth Secretary. He was very helpful to me in helping me explore and develop my vocation.
"I later came to realise the depth and breadth of Michael's experience – church planting in Sussex, his work at Church House, as Moderator of Thames North, and the World Council of Churches.
"After the former Moderators of the General Assembly the Revds Martin Cressey and Arthur Macarthur died, Michael ended up as the only person to have attended every URC General Assembly, indeed he had attended every Presbyterian Church of England Assembly since 1959.
"In later years, he was an invaluable member of the volunteer team organising the Assembly."
Paul Franklin, who served as the URC's Youth Secretary in the 1990s and is now a representative on the URC's Mission Council, said: "Michael left a lasting legacy of his youth work. He worked to make sure that the voice of young people was heard throughout the URC at all levels.
"Young people participated as representatives at General Assembly and the Youth Assembly was then established, later to become FURY Assembly and now known as the URC Youth Assembly.
"He worked with others to establish the national youth activities programme with events such as Adventure Camp, Camp Project Wales and Anchors Aweigh, and many young people were supported and influenced by Michael on their faith journey at these brilliant events.
"Michael was a man of action, and his faith influenced his work and relationships, We must give thanks for the foundation of youth work in the URC that Michael laid, because youth and children's work is still very much part of our work today, and he played a big part in that."
Listen to one of Michael's sermons, recorded for Lindfield URC in February 2020, here.
Watch Michael read out parts of the Statement of the Nature, Faith and Order of the United Reformed Church, recorded for the 2020 General Assembly.

[youtube https://www.youtube.com/watch?v=iA4klkTn45M&w=425&h=344]