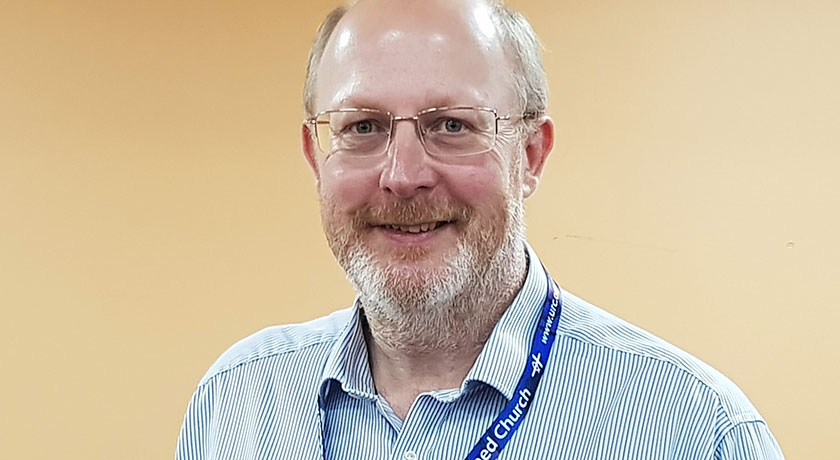 The Revd Steve Faber, Moderator of the West Midlands Synod of the United Reformed Church (URC), has been invited to serve for a second term of office.
The invitation was made after a process of discernment by a panel appointed by the General Assembly, the Church's ultimate decision-making body.
The West Midlands Synod covers 108 churches in Birmingham, Gloucestershire, Herefordshire, Worcestershire, Coventry, Warwickshire, Staffordshire and Shropshire.
Steve began the role of West Midlands Synod Moderator in September 2015, and
has been praised for his leadership through a period of transition in the region, his commitment to pastoral presence within the churches of the Synod and appreciation of his work providing guidance for the whole church during the Covid 19 pandemic.
In March, the Synod became the first in the denomination to achieve the A Rocha Bronze Eco Synod award.
The Revd Dr John Bradbury, General Secretary of the URC, said: "The panel heard about Steve's continued passion for the proclamation of the Word and the celebration of the Sacraments that are at the heart of his call to ministry, and his commitment to helping the Synod catch a vision of where God is calling the congregations of the West Midlands in the years to come.
"His determination to assist the churches of the Synod to journey towards being an anti-racist church and his encouragement of the Synod helping congregations pass the gospel on to the next generations was clear.
"The panel wholeheartedly and unanimously concluded that there is a clear call for Steve to continue serving in his role and believes and prays that this will be for the flourishing of the whole Synod."
The reappointment has been welcomed by the officers of the Synod and the nomination will be presented to the General Assembly on July 9-12 for confirmation.
Steve added: "Serving in any capacity in Christ's church is a privilege, and I believe it is one we should all embrace, responding to the unique call and purpose God has for every one of us. The office of Synod Moderator can be demanding, but I'm grateful to God for calling me to this role, and to the trust that the Synod and General Assembly have placed in me by asking me to serve a second term."
Published: 24 June 2021