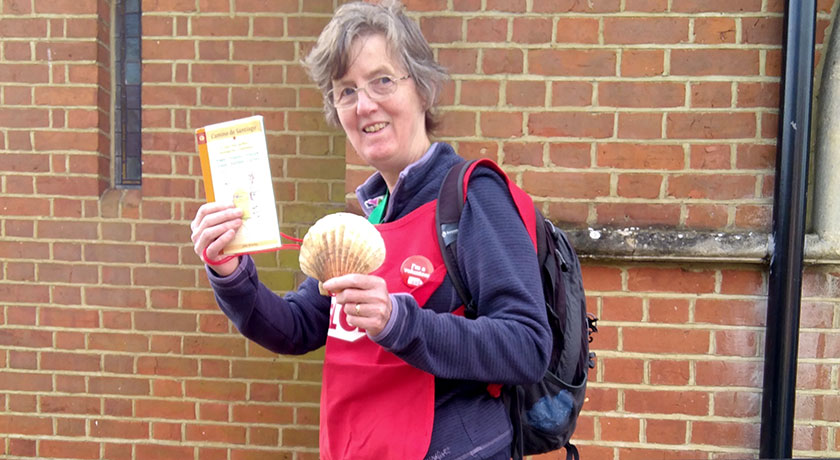 To raise money for Christian Aid Week (10-16 May), Ruth Tompsett, a retired NHS nurse who serves as Church Treasurer for Newport Pagnell United Reformed Church (URC), is walking a "virtual" pilgrimage during her lockdown exercise to help vulnerable people around the world.
Ruth, who retired from nursing a year ago but has re-registered to help the NHS tackle the Covid-19 crisis, walked the 500-mile Camino de Santiago pilgrimage, also known as The Way of St James, from St Jean Pied de Port in France to Santiago in Spain in two stages in 2018 and 2019. She had planned to return this year as a volunteer at a pilgrim hostel, which is now closed due to the coronavirus pandemic.
While volunteering with her local Covid-19 response group, Ruth has become increasingly concerned about the impact of the pandemic on people in developing communities. Coronavirus has now reached every country Christian Aid works in and has highlighted the vulnerability of 40% of the world's population who do not have access to soap and water at home to help protect their families from the deadly outbreak.
Ruth said: "I decided to walk a sponsored virtual 'Camino' of at least 100km during Christian Aid Week after wondering how the churches in Newport Pagnell could continue to raise money for Christian Aid without the house to house collection or any other events we might usually run.
"I am really concerned how coronavirus is going to impact on developing countries and areas of conflict and I know that Christian Aid is working with partner organisations to get help where it is needed. Here, NHS staff are doing an incredible job to save lives and when I see the tools we have to tackle this pandemic I can't help but be aware of how vulnerable so many millions of other people around the world are. In Sierra Leone for example, there isn't a single intensive care unit bed.
"I first heard about the Camino de Santiago when some friends did it after they retired. I started thinking about doing the Camino in 2017, learned some Spanish and finally just reached a point to stop thinking about it and do it!
"I loved the sense of walking a way trodden for generations, living very simply and sharing with others.
"I am going to recreate the last section of the Camino, from Sarria to Santiago, but in Newport Pagnell! I'll be walking just over 100km, which is significant as it's the minimum distance for pilgrims to walk to qualify for the Compostela, the pilgrims' certificate, proved by having your pilgrim passport stamped where you stay each night and at other places as you walk the route
"I will set out early each day as I would on the Camino and take my scallop shell, which has been the badge for pilgrims for over a thousand years.
"I will miss the opportunity to meet with other pilgrims on the route, and the frequent cafes, but I will have the Milton Keynes Redway system instead and have worked out some routes of varying distances that I can do as my daily permitted exercise from 9–17 May."
Christian Aid was founded in 1945 after World War Two when people across Britain, despite their own predicament, gave generously in response to the suffering of refugees across Europe.
Christian Aid's church engagement officer for Buckinghamshire Phil Evans said: "Covid-19 has shown us how we are a global community. The virus doesn't discriminate, we are all vulnerable.
"But in times of crisis the poorest, most vulnerable and marginalised are at the greatest risk. We are seeing fantastic examples of coronavirus bringing communities together, of neighbours across Buckinghamshire helping those in need.
"Coronavirus impacts everyone, but love unites us all. Christian Aid Week cannot be a community celebration in the usual sense, where people go house to house collecting or gather for sales and special services. But Ruth shows us how community can still thrive and be global as well as local.
"Christian Aid is currently responding to the crisis around the world, for example in Myanmar where our local partners have distributed soap to over 30,000 people and distributed 2,000 surgical masks. Sponsoring Ruth will help protect desperately vulnerable people, please support her if you can."
Ruth is aiming to raise a target of £1,000. You can sponsor her via her fundraising page which can be found here. Ruth will be posting updates on Newport Pagnell URC's Facebook page.
Find more ideas about how to celebrate Christian Aid Week digitally – including a 300,000 steps in May challenge – here.